Whether you're moving into a new home, or revamping your existing space, seating is crucial to the style and comfort of your home. With varying surface heights in the dining room, kitchen and bar, choosing the right chair can get confusing. The Moss Manor Design Team is taking matters into our own hands with a seating guide that can assure your space has an ergonomic, yet stylish seating arrangement.
1. Measure your surface.
It't true what they say: measure twice, cut once. As designers, we know how important this can be when ordering furniture for our clients.
The first step in determining the type of chair you need is to measure the height of your table or countertop. Here are some typical surface heights:
Dining Tables, Desks and Conference Tables: 30″ high from the floor to the top of the table surface
Counters: 36″ high from the floor to the top of the counter surface
Bars & Bistro Tables: 42″ high from the floor to the top of the bar surface
2. Measure your chairs.
An important rule of thumb is to leave approximately 12″ between the top of the table and the top of the chair's seat. This allows ample leg room for seated guests. Here are some standard chair heights:
Dining and Desk Chairs: 18″ high seat
Counter Chairs: 24″ high seat
Bar Chairs: 30″ high seat
For a table with an irregular height, consider a chair with an adjustable height that will accommodate 12″ between the chair's seat and the tabletop.
3. Two by Two.
Another important factor to consider is the amount of space designated for each seated person. The "two by two" rule of thumb allots two feet of width for each seated guest, and two feet of space behind them for comfortably getting into a chair and navigating behind other seated guests. Most dining chairs are about 18″ wide, so this rule adds provides for 6″ of space between chairs.
The Shiloh is one of our bestselling dining chairs – and a design team favorite – that's perfect for your modern or contemporary dining room.
The Marius Counter Stool is a great option for seating at a kitchen island.
When siting at the bar, the Equino Bar Stools gives optimal comfort and style at the perfect height.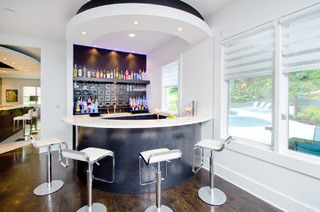 5. Shop with confidence!
Moss Manor offers a wide variety of seating options that will provide comfort and style, whether in the dining room or the conference room. And as always, if you ever have any questions or would like a recommendation for which chair goes where, don't ever hesitate to contact us!